| | | |
| --- | --- | --- |
| | Granite-Corinthian Lodge No. 34 History | |
---
At the Grand Lodge Annual Communication in October 1962 it was decided that "the right to dual membership for a period not to exceed five years is granted to any member of this Grand Lodge who desires to aid a newly formed lodge by temporary membership in." At the same Communication it was also approved that "Grand Lodge code does not prohibit holding lodge meetings in quarters owned and used by other organizations, provided permission is obtained and the quarters can be suitably adapted to lodge use."
Grand Master Cantwell had discussed the possibility of forming a new lodge in fast growing Brandywine Hundred with Ray W. Budd, PM of Washington Lodge No. 1. PM Elmer W. Randall and PM Steve Smith, both of Corinthian Lodge No. 20 had also been discussing the possibility of a new lodge and had received interest from members of the active DuPont Experimental Square Club. These two groups consolidated with PM Budd working with officers of Washington Lodge No. 1 to sponsor the new lodge. In the meantime GM Cantwell had suggested that the Grange Hall in Talleyville might be available on a rental basis which was subsequently approved.
A petition was submitted to Grand Lodge for a dispensation to form a new lodge (to be known as Granite Lodge, U.D.). The request was from 40 members from Delaware Lodges (13 from Washington Lodge No. 1, 6 from Corinthian Lodge No. 20) and 24 from 13 other jurisdictions (5 from Pennsylvania, 4 from New Jersey, 3 from Virginia). PM Ray Budd was to be the first Worshipful Master and PM Steve S. Smith to be the first Senior Warden. The suggested Junior Warden (Harold J. Littleton) was a Virginia Mason and with much help from Grand Instructor Lousell Jeuell and PM Thomas Horn, was qualified to fill the position on April 5, 1963.
While under dispensation on April 17, 1963, until its permanent charter was received, six meetings were held where petitions were received and voted on, the Entered Apprentice and Fellowcraft degrees were conferred, the by-laws were approved and trustees elected. The first Entered Apprentice degree was conferred on September 24, 1963, and the first Master Mason degree on January 7, 1964. In 1965, the Granite Masonic Hall Co. was formed with the objective of securing a permanent home for Granite Lodge.
The September 1965 trestleboard listed four objectives for the Masonic year:
1. To increase our service and image as a community lodge
2. To become better known in the community
3. To implement a positive building program
4. To increase attendance and participation in regular and special meetings.
Granite Lodge became active with increasing membership and a continuing line of new officers. Only twice in its 30 year history did a Worshipful Master have to serve a second year: in 1967 (when incoming Senior Warden was transferred and the incoming Junior Warden had a heart attack) and in 1977.
Granite Masonic Hall Company purchased the Lombardy Hall property in 1967 with the objective of building a lodge room on the property which was properly zoned. Several lodge designs were developed but the members of Granite Lodge finally concluded that a separate building housing the lodge was economically impossible because construction costs were escalating faster than construction funds could be accumulated. The only feasible alternative was conversion of the available garage to a lodge room. A key design feature was to revise the roof of the garage to match that of the main building thereby not detracting from its original appearance.
For economic reasons it was also decided to use much of the stone walls of the existing garage. In 1974 these walls were extended some 20 feet resulting in a usable, but not perfect, 52 foot x 25 1/2 foot lodge room with permanent seats for 75 people. In June of that year the cornerstone of Granite Masonic Temple was laid and in October the lodge room was consecrated by the Grand Master of Masons in Delaware. Granite Lodge--using in architectual jargon "adaptive use" techniques--now had a permanent home and three years later the cost of construction was paid in full. Since June 1974 it has been the meeting place of Granite Lodge No. 34. In 1990 Corinthian Lodge No. 20 moved from 818 Market Street and in 1993 consolidated with Granite Lodge No. 34 to become Granite-Corinthian Lodge No. 34. At various times Granite lodge room has been used by Brandywine Lodge No. 33, Brandywine Chapter No. 9, R.A.M., Gunning Bedford, Jr. Chapter, Order of DeMolay, Bethel No. 11 International Order of Jobs Daughters, the Delaware Lodge of Research and Chester County Chapter of the Philalathes Society.
Many members of Granite Lodge No. 34 have served on the Grand Lodge of Delaware staff and in 1982-83, Harold J. Littleton became Grand Master.
Corinthian Lodge No. 20
In the late 1960s Corinthian Lodge No. 20 (chartered in 1861) was one of the largest, most influential of the seven lodges meeting in the Masonic Temple at 818 Market Street, Wilmington. At its peak in 1961 Corinthian Lodge had 726 members, a full line of officers and candidates waiting to be entered. By 1990 its memberships had fallen to 246, it had many Past Masters in the officer line and its attendance was dwindling, like all of the other downtown lodges. The members of Corinthian Lodge decided to move to Lombardy Hall but still were unable to stem the tide of declining membership and attendance. In 1993, it relinquished its charter and joined Granite Lodge No. 34 to become Granite-Corinthian Lodge No. 34.
While still active in the 1960s two members became Grand Masters--Edward E. Clough in 1952 (who later became Grand Treasurer from 1967 to 1973) and Elmer W. Randall in 1967. Numerous members of Corinthian Lodge No. 20 served on the staff of the Grand Lodge. PGM Randall was active in helping to get Granite Lodge No. 34 organized. PM Ray Howard, an outstanding ritualist, was active in all of the York Rite bodies serving as Grand High Priest in 1961 and was for many years the only individual capable of installing lodge and Grand Lodge lodge officers from memory.
Granite-Corinthian Lodge No. 34
On October 6, 1993 the charters of Granite Lodge No. 34 and Corinthian Lodge No. 20 were returned to the Grand Lodge and a new charter issued to Granite-Corinthian Lodge No. 34. Despite some initial reservations and concerns, the consolidation has worked out well for members of both lodges. A few Past Masters have served as Worshipful Master and a Secretary of the new Lodge since its successful merger. Many new members have joined and a younger, more active group of officers is keeping the lodge in the forefront of Masonry in Delaware.
In 2003, Wayne D. Mower, III became the first member of Granite-Corinthian Lodge No. 34 to become Grand Master of the Grand Lodge of Delaware.
In 2012, Barry C. Hughes became the second member of Granite-Corinthian Lodge No. 34 to become Grand Master of the Grand Lodge of Delaware.
Harold T.J. Littleton, PGM
Historian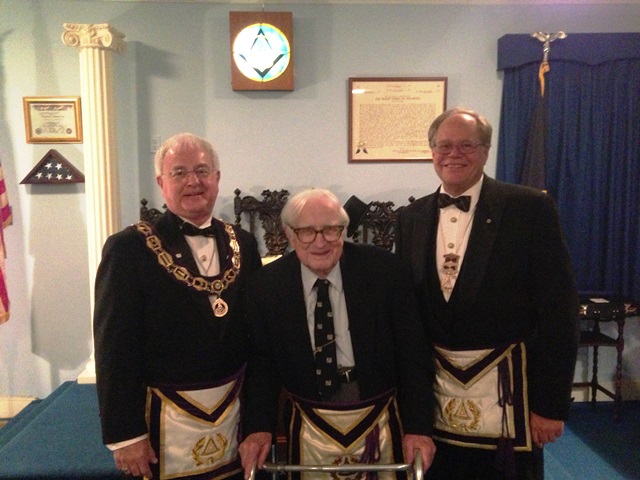 Three Past Grand Masters: Barry C. Hughes, PGM, Harold T.J. Littleton, PGM, Wayne D. Mower III, PGM

<!/color>